Event Details
Date

Sat 07th Mar 2020

Venue

Royal Spa Centre

Address

Royal Spa Centre, Newbold Terrace, Leamington Spa, CV32 4HN View Map

Time

5:30 pm -
---
Ticket Prices
General Admission (with Discount Code: DESIHIVE)
25.00
General Admission - Balcony (with Discount Code: DESIHIVE)
20.00
---
Use the discount code DESIHIVE for £5 of the original ticket price
Get Ready for UK's first-ever Midlands based Inter-University Tamil Dance Competition. SHOWDOWN 2020!
9 universities are getting ready to showcase their talent on the beautiful stage of the Royal Spa Centre. Want to know which universities are competing?
Aston University
Cardiff University
Coventry University
Newcastle University
University of Birmingham
University of Brighton
University of Leicester
University of Liverpool
University of Nottingham
Who do you think will be crowned the champions of Showdown 2020?
An incredible panel of expert judges, exciting acts and hosts have been line up for an unmissable evening.
Judges
Usha Jey (France)
Sandy Master (India)
Niro Balakumar (UK)
Vinaya Seshan (India)
Veena (UK)
Grab your tickets now!
Doors open: 4.30
show starts: 5.30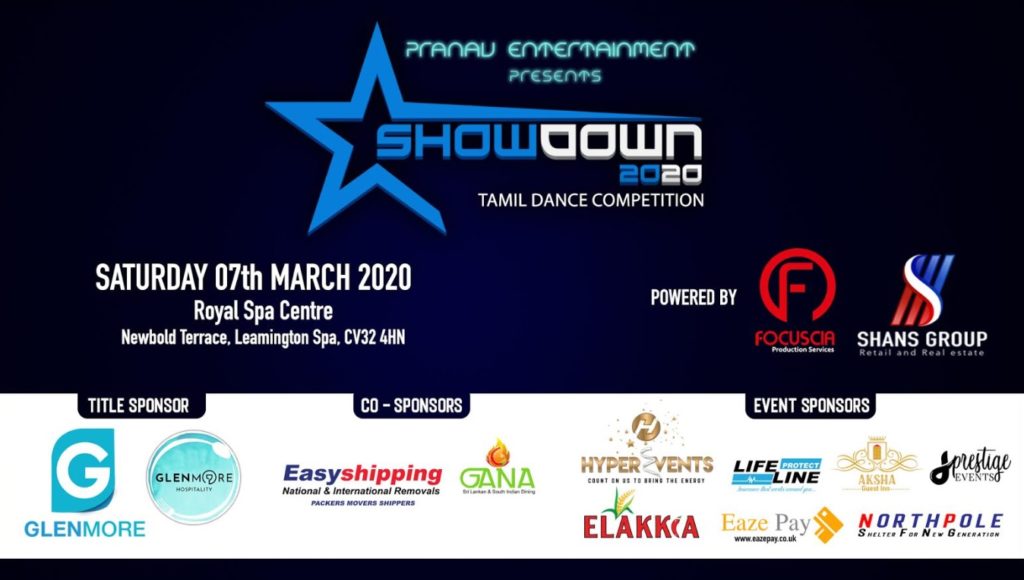 Title Sponsors: Glenmore properties & Glenmore Hospitality
Powered by: Focusia & Shans Group
Co-Sponsors: Easy Shipping, Gana Restaurant & Hyper Events