Event Details
Date

Wed 11th Mar 2020

Venue

Camden Image Gallery

Address

174 Royal College St, London NW1 0SP View Map

Time

11:00 am - 6:00 pm
---
Canadian-Sri Lankan artist Frances Ferdinands presents her first London solo show celebrating her forty-year career.
Exhibition Dates: 5th-11th March 2020, 11-6pm daily
Private View: Thurs 5th March 6-8pm (Directorial Tour at 7pm)
The Noble Sage is proud to present the work of Canadian-Sri Lankan artist Frances Ferdinands and her new series of paintings. 'Enduring Patterns' will be the artist's first solo exhibition in the UK after a forty-year career.
The newest series of paintings relate back to one of Ferdinands' earliest inspirations: the Pattern and Decoration Movement of the 1970s and 80s. Emerging out of the Feminist Art Movement of the late 1960s, Pattern and Decoration (P&D) declared itself vehemently aside from figuration and abstraction. It was within the much-derided arena of 'the decorative' that the group felt the greatest freedom.
Decoration, an essential aspect of every human culture since the beginning of civilization, allowed a new alternate art history to be manifested that was inclusive and refreshing. Patriarchal Western civilization had adopted the stance that art that was decorative should be subjugated as less important than other so-called Fine Arts. Yet those other Fine Arts inevitably were driven and defined only by white men. Decoration by contrast associated itself with artistry, femininity, craft, humanity, multiculturalism, and most of all the essence of beauty that bound all artists in their quest.
Frances Ferdinands was greatly influenced by this group's ethos and work throughout her career, however it is in this recent series of works that we see this manifest most clearly. Ferdinands draws upon Islamic and Hindu patterns and design, Sri Lankan textiles, Buddhist iconography at the same time as referencing famous Modern painters and her own migrant journey to bring us joyful tapestries of colour. The works however defies a 'simply decorative' classification as they contain strong messages in relation to globalisation, the preservation of our planet, human migration and more.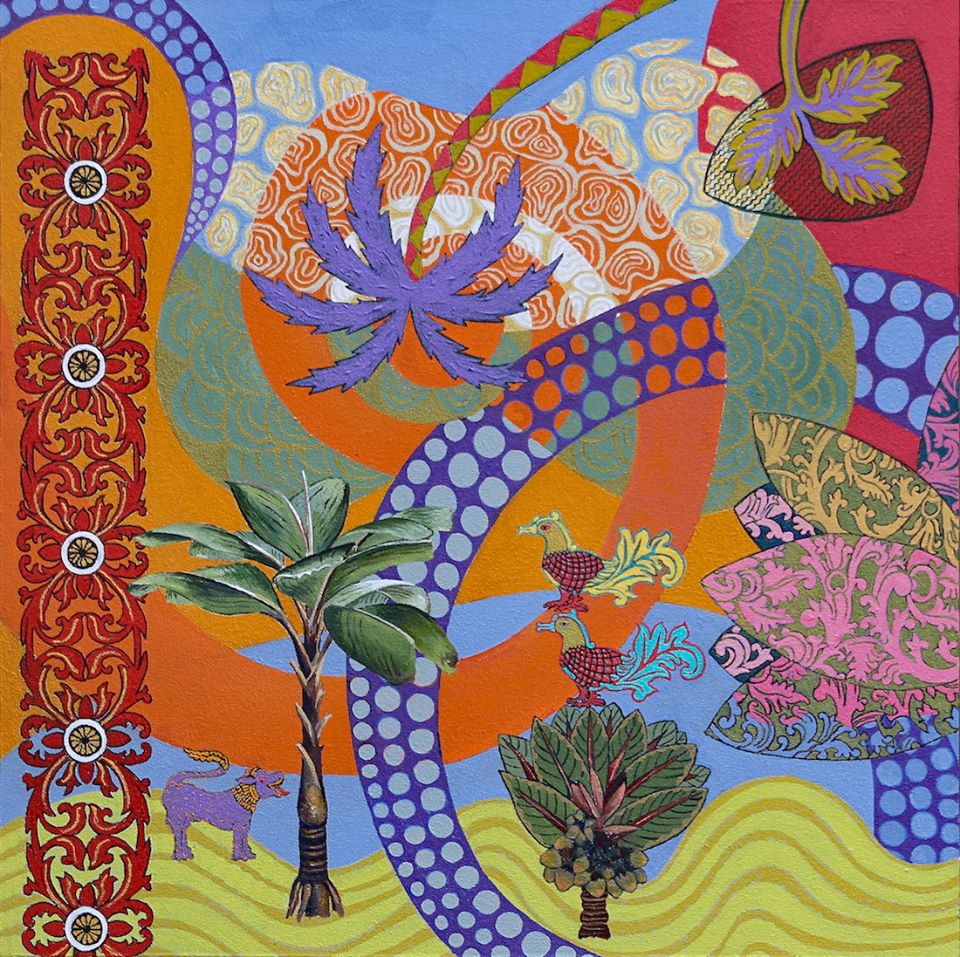 Ferdinands' paintings show the great potential of pattern and decoration to dress (and address) pressing issues in approachable colour and magnetic design in order to generate contemplation on serious issues that concern us all. Perhaps the inference is that without this foundation of happiness, what use is anything else?
The exhibition will be open daily 11-6pm. All welcome, no appointment necessary. Original works are for sale.